When the New Year draw closer and closer, annul meeting and party are coming!Do you want to a new look in 2016? You can change from your dress style. In the red carpet fashion, formal evening gown with front slit are always popular, and it will be in vogue again in the following year.
You may see a lot of sexy formal dresses style such Deep V neck, open back, lace etc. In my opinion, One trend will continue in 2016———- that we see as emerging and fast gaining popularity is the presence of high slits.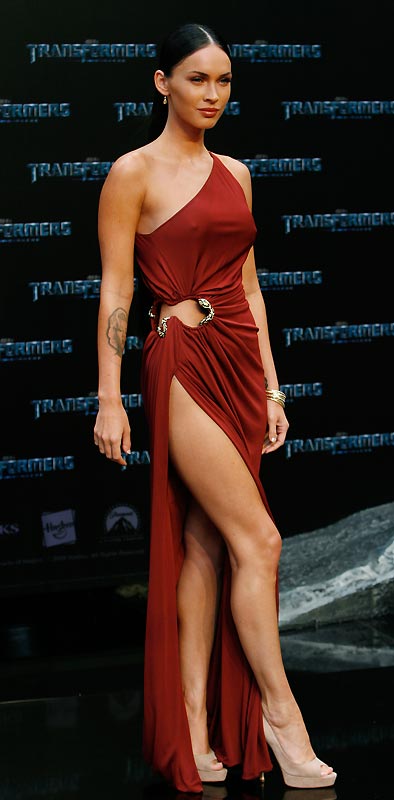 Megan Fox Maroon Roberto Cavalli High-slit formal Dress
International celebrities who made it to the top list of beautifully carrying off the high slit dresses and gowns at various red carpet events starting end of last year were Megan Fox in her purple thigh high Donna Karan dress and later, in her maroon Roberto Cavalli cut out dress with a slit much higher than her purple gown, both worn to the premiers of the movie Transformers; Cindy Crawford in her black dress with a mid thigh high slit at the premier of Fantastic Mr. Fox and the oomph girl Fergie in her shimmery black and silver fitted dress with a slit at the center front.
Everybody sat up and noticed her sun kissed body, well toned legs that showed through beautifully from the slit and tousled hair and though she was not a winner that night, she went back home a happy woman, as her gown made fashion critics sit up and not only notice, but even applaud the sexy dress and set the path for many more such dresses to be donned at the red carpet events.
At the same event, many other celebrities too wore the high slit dresses and were applauded for not only their well toned bodies, but also their dresses.
Who can pull off the look?
While it is said that you need to create your own fashion statement and have your own distinctive individuality, the trick is to really know if you would end up looking drop dead gorgeous or trash can.
A well toned body and really long legs is a must for carrying off this look. Petite, shorter frames should stay away from the look as they may  end up looking podgy. Designers are of the opinion that a lot of women in India can actually carry off this look, primarily because their problem area is not really the legs, it is the waistline.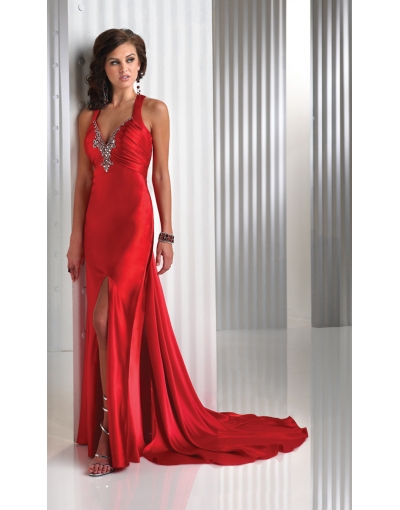 Go for styles which have slits at the side or the center and deciding how high those slits should really be , are some other factors to consider. With ever increasing slit lengths, wearing a center slit which barely covers your modesty may not be the only answer to look sexy. Choose a dress which shows off your assets to your advantage, without making you look like a cheap , dressed down version of an imported designer! We all know too well "" there is a fine line dividing the vulgar from the stylish. In 2016, you will become different with such gorgeous gowns.
See more other dresses WeddingBuy.co.uk